For those on the outside looking in, describing what makes Star's client relationships so successful isn't easy. After all, each client relationship is custom-built for a specific client's vision and goals. To give you an idea of what one of those relationships looks like, I'll describe our relationship with Valspar.
One of the world's largest global coatings manufacturers, Valspar has been a Star client since 2010. We started out with a single assignment—develop a trade show booth for one division—and now partner with four of the company's six divisions and offer a range of services: trade shows, corporate interiors, on-site event management and more.

Experiential Marketing Across Segments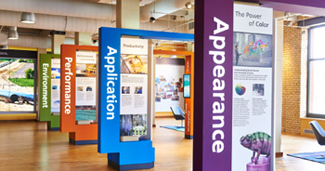 During our first tradeshow assignment, we got to truly know Valspar's brand, goals, product and audience. That knowledge set us up for success in what we do best: tell compelling client stories that deliver results.
And we often tell those stories in multiple ways. In fact, the ability to use our knowledge of a client to achieve multiple objectives with different audience segments is a key part of Star's process. It's also what clients tell us they appreciate about working with us. Why? Because it leads to greater efficiency and more opportunities for success. Here are a few examples:


Trade Shows
Valspar participates in trade shows both nationally and globally. Regardless of the location, size or scope of these shows, our Startranet project inventory and management portal ensures a consistent look and feel. Startranet also takes the headache out of tracking down everything from monitors to tablecloths to banner stands, all of which are inventoried at Star's new 186,000 square-foot facility in Minneapolis. Valspar's sales reps can easily log on to Startranet to view and reserve items.
Corporate Interiors
Valspar's corporate interiors are designed to tell the company's story, promote its brand and ensure consistency the world over. And that consistency speaks to Valspar's vendors, prospects, employees and customers.


Event Displays
The designs we developed for Valspar's corporate interiors have been translated into other displays that are now used at events such as Valspar's annual golf tournament. In fact, we repurposed many of the actual corporate interior components for a wide range of event displays.
On-Site Event Management
As Valspar's marketing support team, Star is there for whatever they need, whether that's catering, hotel reservations or a show floor runner. It's all about making sure the brand is presented consistently wherever and whenever.
Your Succeess is Our Success
One of the (many) great things about partnering so closely with our clients, including Valspar, is that we build real, lasting relationships that contribute to the success of all. And when our clients succeed, they shine. And so do we.
Watch the Valspar Corporate Brand Experience; Interview with Executive Vice President, Steve Erdahl